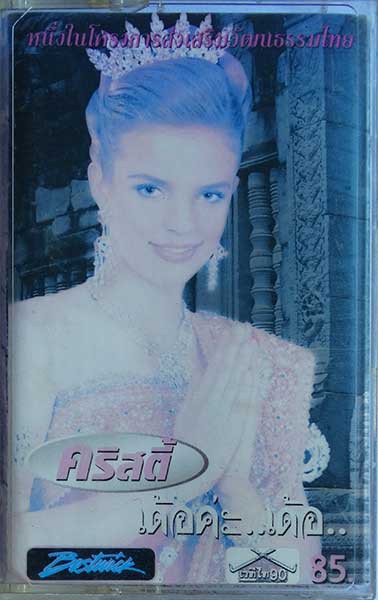 Christy Der Ka Der
Christy Gibson - คริสตี้ กิ๊บสัน
SOLD OUT
Molam & lukthung album from Dutch-Anglo singer Christy Gibson (คริสตี้ กิ๊บสัน), born from a Dutch mother and a British father.
Christy Gibson moved to Thailand as a child with her family when she was six years of age. They lived in Korat and then Bangkok.
Gibson was discovered in 2000, while performing a well-known Thai song. She was subsequently invited to perform on a variety of popular TV shows, including the country's premier nationally televised lukthung concert, "Wetee Thai".
Gibson released her first album, Christy Der Ka Der, in 2001 and her second, Jam Gan Boh Dai Gah?, in 2002. Gibson was signed by Sony Music Thailand in 2003, released her third album titled Gulahp Wiang Ping. During her time with Sony Music Thailand, Gibson also recorded an album jointly with Swedish luk tung singer Jonas Anderson, called Rum-tone, Rum-thai. This was followed up by two more duet albums, released independently.
In 2012 and 2011, Gibson had two consecutive hit songs. In 2010, her song "Jep Tee Mai Dai Cheun" charted all over Thailand. This was her most popular song up until that time and remained in the top of the charts for that genre for two years straight.
Her album of 2011, Yah Yohm Pae, was an anthem of hope for many during the massive floods in Thailand of that year. For this song she received the Siam Dara Star Award for the Greatest Lukthoong Song of 2011. She has also received a number of other prestigious awards throughout her career.
In 2012, Gibson released 2 more singles; Tah Lohk Mai Leua Poochai Suk Kon and Neua Koo Kohng Chun Gert Reuyung Noh. She travels and performs in concert all throughout the country commercially and for social causes and has performed internationally for a variety of cultural events throughout the world.
Original Thai cassette from 2001.
Condition: VG+ (casstte) / VG- (sleeve)
● For art and/or science projects high-quality recordings of this cassette tape are available on request. Send us an email with your enquiry ●