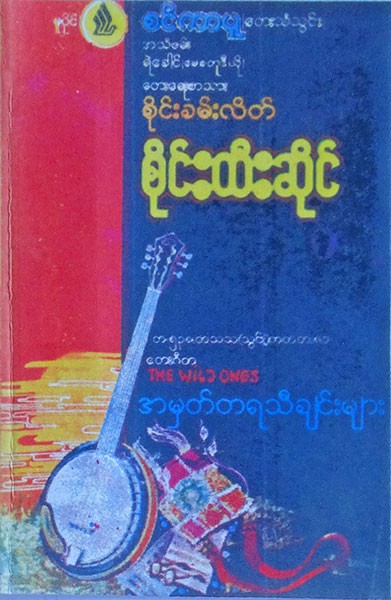 Burmese Cassettetape
The Wild Ones
SOLD OUT

The Wild Ones were a Burmese band fronted by musical legend Sai Htee Saing (1950-2008), a Burmese-Tai singer and guitarist of Shan descent. His music was very heavily influenced by American rock and country music. He formed The Wild Ones in 1973 together with songwriter Sai Kham Leik, and was at the epicenter of a very complicated history of pop music in the constant political turmoil and artistic censorship of post-colonial Burma/Myanmar.
The Wild Ones achieved major success in Burma throughout the 1970s and 1980s, known for composing their own songs in the Burmese language.[1][4] Sai Htee Saing was also prominent in the Shan literature movement to preserve Shan language education in Burma. The career of Sai Htee Saing spanned four decades and along with his group The Wild Ones he recorded more than 40 music albums; most of which were released originally on cassette.
In 1973, Sai Htee Saing and his band The Wild Ones made history as the first to commit to performing nothing but own tunes. In 1976, the Yin Mar Music Store opened in downtown Yangon. This was the first store devoted entirely to stocking foreign-made recordings, and it served (and still serves) as a Mecca for young Burmese who want to learn how to play and sing popular music. Inspired by recordings acquired at Yin Mar, Sai Htee Saing"s increasingly large number of peers created, performed and recorded copy thachin and own tunes through the 1980s and 1990s. During this era, the Burmese pop scene even produced a handful of all-female bands. Together, these pop music bands became the entertainment of choice for many parties, weddings and professional functions. And Burmese pop musicians continued to work in tourist venues, impressing foreigners with their note-perfect renditions of English hit songs (Heather MacLachlan 2009).
Sai Htee Saing started his career by defying the ruling dictatorship of Burma and ended it kowtowing to the military junta, even singing songs written by the propaganda minister. He was from the Shan ethnic group but sang mainly in Burmese. In "Chit Tae Shan Yoe Ma" Sai Htee Saing, who passed away in 2008, sang longingly about his Shan homeland. Because the ruling Bamar-majority government's promise of independence for the Shan never came to be and the Shan remain outside the mainstream, songs by Shan singers — especially those sung in Burmese –always come with a tinge of politics.
This cassette tape was obtained in Mae Sai, Thailand, in 2016.
Condition: VG+ (casstte) / NM (sleeve)
● For art and/or science projects high-quality recordings of this cassette tape are available on request. Send us an email with your enquiry ●