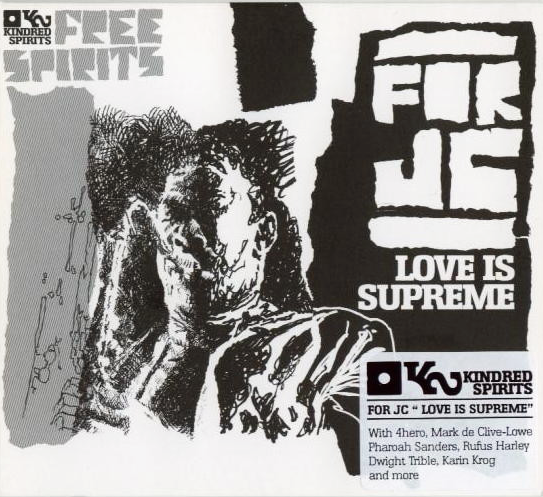 Free Spirits Vol. II - For JC - Love Is Supreme CD
VA
€ 12,00
1.

Pharoah Sanders - Prince Of Peace

2.

Rufus Harley - A Love Supreme

4.

Mark De Clive-Lowe Feat. Bémbé Ségué - Naima

5.

Dwight Trible - A Love Supreme

6.

Our Cry For Peace Feat. The Voice Of Dwight Trible And Members Of Build An Ark - John Coltrane

7.

Heikki Samarto Ensemble, Gregg Smith Vocal Quartet, Long Island Symphonic Choral Association - Duke And Trane

8.

Karin Krog And Nils Lindberg - John Coltrane's A Love Supreme

9.

Billy Gault - Mode For Trane

10.

Clifford Jordan Quartet - John Coltrane

11.

Kamau Daaood - Liberation Of The Spirit
In memory of John Coltranes 80th birthday Kindred Spirits presents For JC - Love is Supreme - a spiritual jazz odyssey in respect to John Coltranes philosophy.
His album A Love Supreme, that came out in the roaring sixties, was the beginning of a musical movement. Coltrane opened the eyes of the jazz community by pointing out the potential of jazz as a way of generating positive changes. The wish to create an objective, universal voice helped Coltrane to develop his own sound. The result: a warm style with a strong spiritual message that finds followers up till today.
For JC - Love is Supreme is a confirmation that Coltranes heritage is still alive, addressing new generations. His approach called Spiritual Jazz has many faces. It can be found not only in jazz itself but it also finds reflection with those who look beyond for instance techno or hiphop music. Examples of this can be found on this compilation, like 4 Hero, Dwight Trible and Carlos Nino (Build an Ark) and Mark the Clive-Lowe , all inspired by Coltranes Spiritual Jazz.
Original Cd from 2004 is in near perfect condition.
Condition: NM (CD) / NM (Cover)
Ships within 1 day