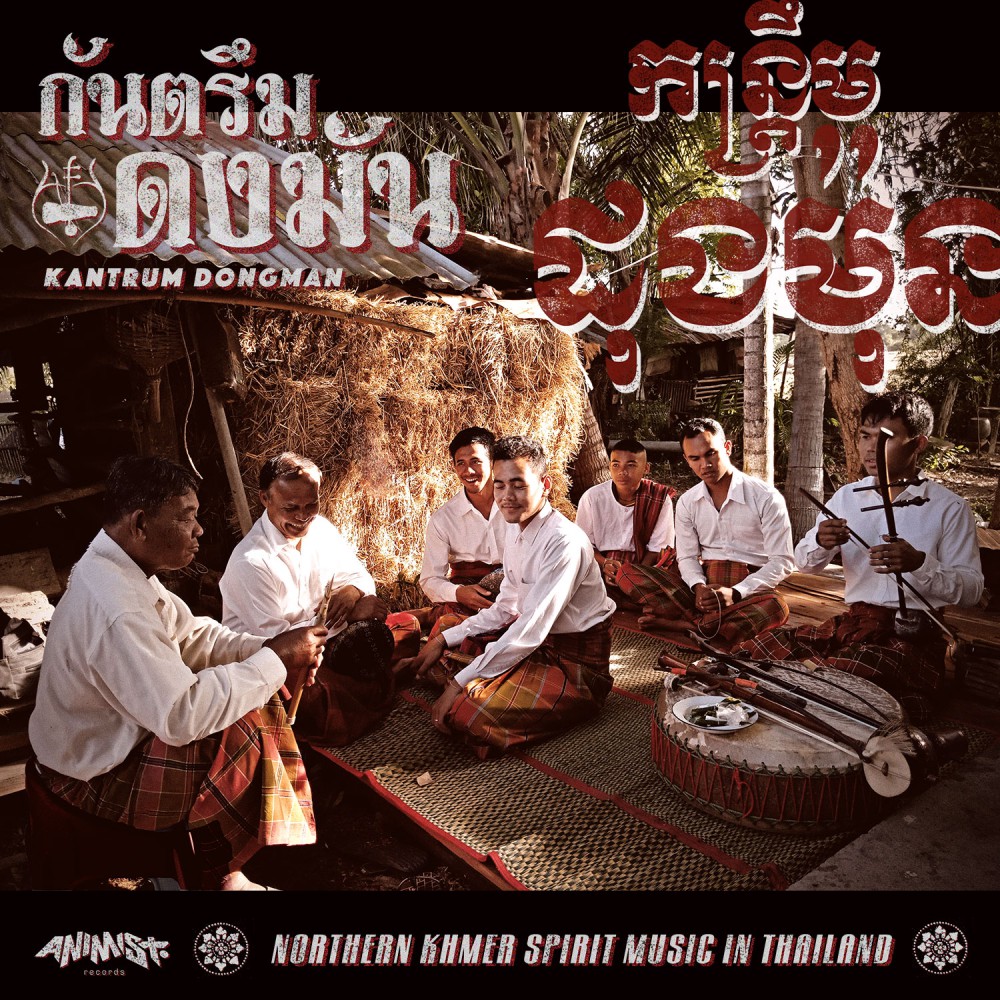 Northern Khmer Spirit Music in Thailand
Kantrum Dongman
€ 12,00
11.

Seven kantrum percussionloops
This album provides a rare opportunity to hear a kind of music that has strong cultural significance, but was almost completely erased by the Khmer Rouge regime of Pol Pot in the Cambodia of the '70s.

Kantrum is not only of great value to the surviving Khmer people as part of their heritage, but is a powerful healing method in the first place.

In Khmer animism the people belief their happiness depends on the spirits that live around them. 
When a person becomes ill they believe the spirits are angry, and therefore need to be consoled by shaman-lead rituals with music and dance.
In the '90s the Khmer in Cambodia found out that a music that sounded familiair in language, melody, rhythm and instrumentation, but they didn't know, survived on the other side of the border in Thailand.

Since then the soulful songs with deep grooving rhythms sparked a revival that has been growing steadily ever since.

One of the few surviving groups with knowledge of the original music has been recorded by Olivier Schreuder & Angkanang Pimwankum of Animist Records in the border-province Surin in Northeast-Thailand.
The duo that is also behind the esantronics of Thai-Dutch collective Apichat Pakwan, in which they present both obscure Lao & Thai songs as well as their own new compositions, now introduce another selection of Southeast Asian music to the world that is rarely heard outside of the region it comes from. 

'A fascinating collection of catchy and mesmerizing songs - ★★★★' - Songlines Magazine
'An excellent snapshot of one of Isan's lesser-known traditional musical genres, and for those who enjoy traditional music from Isan but only know molam, this one will be of great interest - Bangkok Post
The CD version of this album is a beautiful designed gatefold digipack with full-color 6-page booklet, containing photos of the recording session and detailed liner notes. 
Released on May 17, 2022
Performed by the musicians of Ban Dong Man, Surin, Thailand on 9 December 2018
Recorded in one take by Olivier Schreuder & Angkanang Pimwankum

With special thanks to Suyata Canlaya

Mixed & mastered by Olivier Schreuder
Graphic design, photography & liner notes by Olivier Schreuder