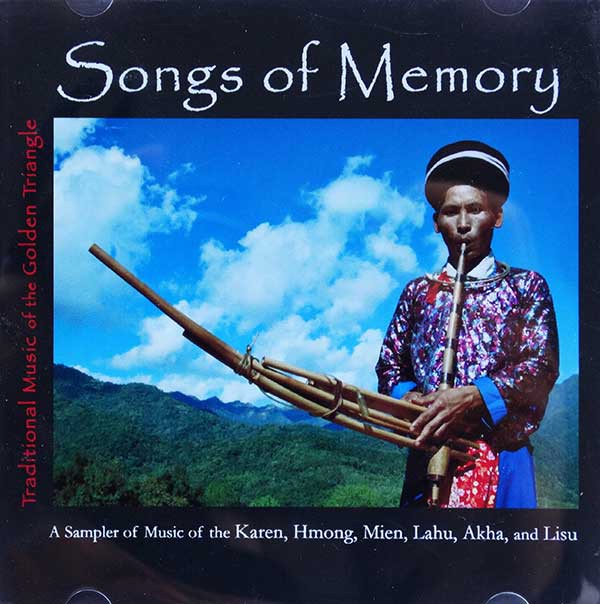 Songs of Memory
Hilltribes of the Golden Triangle
SOLD OUT
1.

Karen S'gaw - Courtin Song, accompanied on a te na harp

2.

Hmong Tsai - New Year Song, played on a gheng free-reed pipes

3.

Mien - Courting Song, played on a bao dong ngo, end-blown flute

4.

Lahu Shi (Men's Chorus) - Sacred Chanting

5.

Akha Loimi - Courting Song, played on a ja eu mouth harp

6.

Lisu Shae Shae - Courting Song, played on a djeulae bakka side flute

7.

Karen S'gaw - Kwae free-reed horns

8.

Karen Pwo (Men's Chorus) - Neng Sang Ku, 'thousand verse song'

9.

Karen Pa O - Song of Loneliness

10.

Karen S'gaw (men and women) - Courting Song

11.

Karen Kayaw - Ancestral Song, accompanied on a paplaw tube zither

12.

Hmong Deaw - Song of Longing

13.

Hmong Deaw - Courting Song, played on a traa pulay end-blown flute

14.

Hmong Njua - Song of Loneliness

15.

Hmong Deaw - Courting Song, played on a lei lei folk clarinet

16.

Hmong Deaw - Courting Song, played on a nja mouth harp

19.

Mien - Ceremonial Music, performed by a dzat double reed and percussion

20.

Mien - Ancestral Song

21.

Mien - Sacred Chanting to call deities, accompanied by ling bells

22.

Lahu Shi - Courting Song, played on a naw free-reed pipes

23.

Lahu Shi - Courting Song, voice and tae lae kui end-blown flute

24.

Lahu Shi - Courting Song, played on a ahta mouth harp

25.

Lahu She Leh - Courting Song, played on a teu ga lute

26.

Lahu She Leh - Medley of festival and healing music, played on free-reed pipes

27.

Lahu Shi (Men's Chorus) - Sacred Chanting

28.

Akha Ullo - Hunting rite, played on bo dii bamboo beaters

29.

Akha Puli Hulai - Shaman Soul-calling Ritual

30.

Akha Nuqui - Courting Song

31.

Akha Ullo - Funeral Chanting, accompanied on a bau tang beater

32.

Akha Loimi - Ancestral Song

33.

Akha Loimi - Courting Song, played on a leaf

34.

Akha Loimi - Courting Song, accompanied on a dheubam lute

35.

Lisu Shae Shae (man and woman) - New Year Song

36.

Lisu Shae Shae (two women) - Friendship Song

37.

Lisu Nae - Courting Song, played on a pali fulu

38.

Lisu Nae (women) - Ancestral Song, accompanied on a tseubeu

39.

Lisu Shae Shae (men and women) - New Year Festival Dancing, accompanied on a tseubeu
High in the mountains of the Golden Triangle, where Thailand, Laos, and Myanmar once knew no boundaries, lives a rich multiplicity of traditional peoples. Prominent among them are the Karen, Hmong, Iu Mien, Lahu, Akha, and Lisu, six distinct groups who have maintained their independence, identity, and worldview to a high degree.
Songs of Memory explores the cultural and musical foundation of each of these groups and the vital role music has played throughout the centuries. This work highlights the vast range of celebratory songs, sacred chants, and instrumental music that chart the arc of life, the cycles of seasons, and the wheel of generations.
The Songs of Memory compact disc offers a rich and varied collection of secular and sacred music of the Karen, Hmong, Iu Mien, Lahu, Akha, and Lisu people of Laos, Myanmar, Thailand, and China. Cycles-of-life pieces are performed through song, leaf, mouth harp, horn, reed pipes, side flute, end flute, folk clarinet, lute, harp, zither, and bamboo beaters. Ritual chants and ceremonial instruments—shawm, drum, gong, cymbals, bell, and bamboo beater—unfold during sacred observances.
This CD is exclusively part of the book 'Songs of Memory' by Victoria Vorreiter, published March 2009. The CD contains 78 minutes of recordings.
Condition: NM (CD) / NM (Cover)
Ships within 1 day