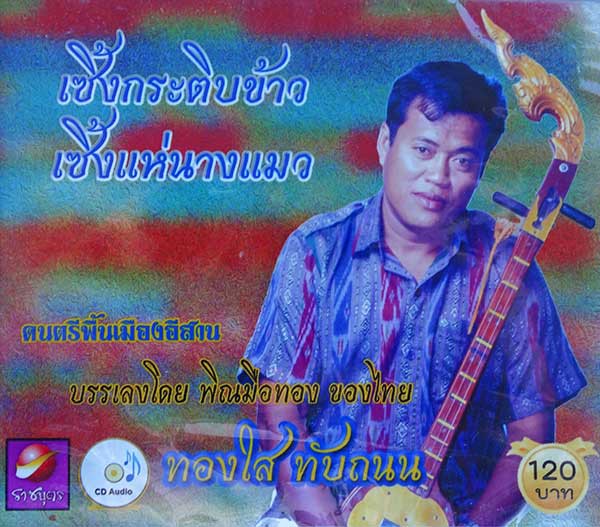 Best of Northeast Native Melody Vol.3
Thongsay Tebthanon - ทองใส ทับถนน
SOLD OUT
Volume 3 of this Isan/Lao folkmusic CD series by the legendary Thongsay Tebthanon (ทองใส ทับถนน). Hailing from the Northeast-Thai city Ubon Ratchatani, he is best known as phin-player from the Petch Phin Thong Band, who got famous outside of Thailand because of the raw and funky instrumental dancefloor track 'Soul Lam Plern' on the Sound of Siam compilation, released in 2010.
The recordings on this CD are probably from the early '90s, judging from the sound of the drummachines that accompany Thongsay Tebthanon's typical clear style of phin-playing. He is considered one of the original masters of Isan or Lao folkmusic, not only because of his instrumental skills but especially because of his knowledge of even the most obscure melodies, and his exemplary style of performing them and transferring the traditional melodies to the new generation.
Thongsay Tebthanon was born in 1947 in Ban Nong Kin Phen, a rural village in Ubon Ratchatani province. His father was a famous molam (Isan/Lao folkmusic) artist as well, who studied under Thongkham Pengdee, a molam artist known for his excellent skill in the traditional lam klawn genre.
Thongsay Tebthanon began playing the phin (Lao string instrument) at the age of 4 with his teacher Kru Boon from Ban Tha Ngoi village. When he turned 8 years old he joined the molam band of his father. He then continues his study of the phin with Boonchoo Nonkaew, a blind phin-master from Kanthararom district in Sisaket Province.
At the age of 10 he starts touring around Isan with the Morlam Phin Band.
In 1968, as he turns 21, he has to join the army, in which he joins the Khongphantahaan Phern Yai Band (Artillery Battallion Band).
After being discharged from military service in 1970, Thongsai Tebthanon returns to his hometown and joins the Isan folkgroup from Noppadon Duangporn under the nickname Thongsai Huanak, because he carved the neck of his phin in the form of a serpent (naga or nahk).
The name of the group was changed to The Petch Phin Thong Band, after the group performed for the King of Thailand at the Ubonrat Dam and offered a phin in the water, calling the phin a 'diamond (petch) of Isan'.
Thongsay Tebthanon is credited for being the first to electrically amplifying the phin.
In 2005 he receives an honorary Master of Arts degree (Music Education) from Ubon Ratchathani Rajabhat University.
Condition: NM (CD) / NM (Cover)
Ships within 1 day
● For art and/or science projects high-quality recordings of this CD are available on request. Send us an email with your enquiry ●