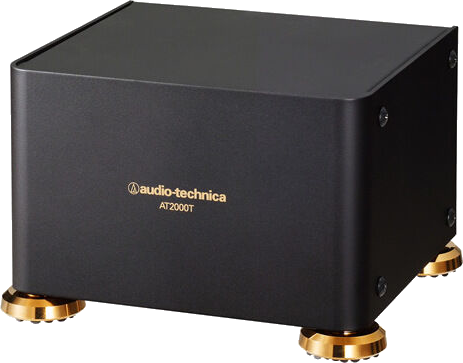 AT-2000T MC step-up-transformer 4205
Audio Technica
€ 1.329,00
High-end amplifier for MC-elements with a flat frequency-curve.
The AT2000T is a step-up transformer that is the culmination of know-how from both the AT5000T, which was released to celebrate AT's 45th anniversary, and its improved follow-up, the AT3000T.
The AT2000T represents good value for money, coming installed with the same special winding EI core transformer as the earlier AT3000T, and retains its special flatness and superior sound quality. Enjoy rich sounds from analogue records with the AT2000T.
(Dutch:)
Voor de High End platenspelerliefhebbers met MC elementen heeft Audio-Technica een MC naar MM step-up transformator gebouwd. Deze transformator versterkt het signaal van een MC platenspelerelement naar een hogere spanning. De spanning is groot genoeg om de transformator (platenspeler via de step-up transformator) op een MM platenspeleringang van een audio versterker aan te sluiten. Omdat de step-up transformator geen halfgeleiders of buizen heeft, wordt er door de versterking bijna geen tot geen ruis aangemaakt. Hierdoor is er veel meer geluid, detail, duidelijkheid en helderheid te horen vanaf een platenspeler met een MC element.

Kenmerken:
- Versterkt het signaal van een MC platenspelerelement naar een hogere spanning
- Kan direct aangesloten worden op een MM platenspeleringang van iedere audio versterker
- Transformator met speciale windingen om een EI kern die weinig last heeft van elektromagnetische straling
- Transformatorkern is 70% van Permalloy voor een ontwerp met een lage verliesfactor
- Transformator is verpakt in dempingsmateriaal om resonanties tegen te gaan
- Sterke metalen behuizing om een hoge weerstand te bieden tegen invloeden van buitenaf
- Grote voetjes met goede demping
- Kleur: zwart

Aansluitingen:
- 1 platenspeleringang: Phono (MC)
- 1 platenspeleruitgang: Phono (MM)

Technische gegevens:
- Frequentiebereik: 10-50000Hz
- Versterking: 24dB
- Compatibele MC elementen: 2-20 Ohm
- Kanaalscheiding: 85dB
- Afmetingen (bxhxd): 140x89x125mm
- Gewicht: 1,2kg