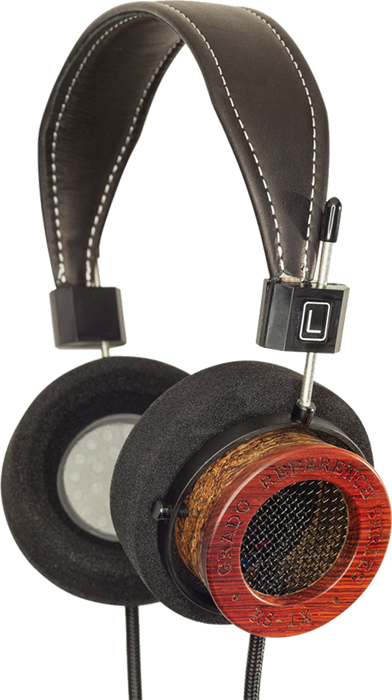 Reference RS-1X Headphone
Grado
€ 889,00
"The Grado RS1x Reference Series Headphone is everything you expect in a reference headphone. Linear but not sterile, musical but not veiled, dynamic, detailed, open and airy but with deep bass extension, with a massive three-dimensional soundstage, and on top of that unbelievably light and comfortable that allows for hours-long listening sessions. They also represent an incredible value performing at a level comparable to headphones costing twice as much, though like all reference headphones you buy them for their unique sound rather than their price as compared to competitor offerings as there really is no competition in that aspect.
And there is no denying their beauty, hand-crafted of lustrous woods, metals, and leather, as well as the incredible workmanship and quality that goes into their manufacture. It is no wonder that they are selling as fast as they can be produced.
I heartily recommend listening to these amazing headphones and preferably buying them while they are still available." - Headphone Guru
This is the first time three different wood species were used working together in a Grado headphone. The housing is made of a maple sleeve, a hemp core, and a cocobolo outer ring. The result is a stunningly beautiful looking warm-sounding headphone.
Open-air in design, the RS1x is the first Grado headphone to be built using larger 50mm X Drivers which are de-stressed and specifically tuned for the tri-wood RS1x featuring a more powerful magnetic circuit, a voice coil with decreased effective mass, and a reconfigured diaphragm, improving efficiency, reducing distortion, and preserving the harmonic integrity of the sonic output.
Coupled with the new 50mm X Driver the combination of maple, hemp, and cocobolo allows Grado to bring their signature sound to a new level. The maple takes care of most of the work, while the hemp smooths out the top and low ends, and the cocobolo adds extra punch. Together, the sound the woods produce, when combined with Grado's special manufacturing processes, are full-bodied, dynamic, and truly defined.
Along with the speakers, the cables and headband have been redesigned for the RS1x featuring super annealed copper 8-conductor cable housed in a more durable exterior which is hardwired to the drivers for maximum performance. The new black leather headband features a white-stitched accent, metal gimbals, and Grado's L Cushion.
Each RS1x headphone is hand-assembled in Brooklyn using drivers matched to .05dB.
Transducer Type: Dynamic
Operating Principle: Open Air
Frequency Response: 12 – 30,000 hz
SPL 1mW: 99.8 dB
Nominal Impedance: 38 ohms
Driver Matched dB: .05 dB
Ships within 3 days