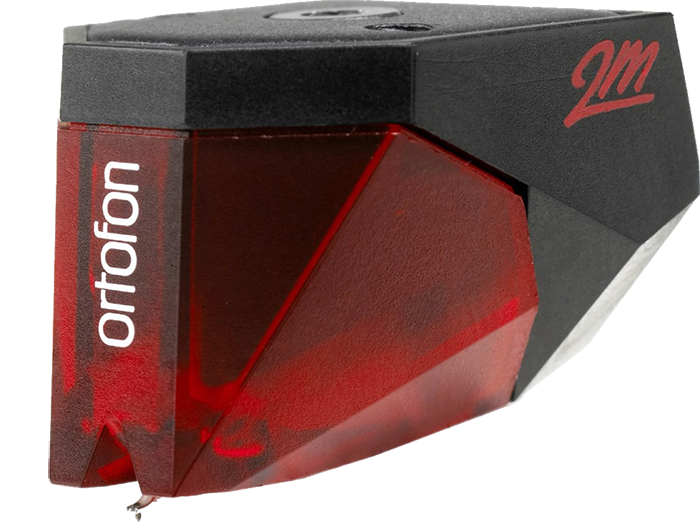 2M RED Element (cartridge)
Ortofon
€ 119,00
The 2M Red features a tipped Elliptical diamond and split pole pins with a copper wire. 
The engine provides an increased output of 5.5 mV and an optimized sound reproduction and a high level of sonic accuracy.

Designed for easy mounting of the cartridge, and for the weight and size to fit the most common turntables on the market today. The 2M Series provides excellent compatibility when used in an assortment of playback systems and with a wide variety of phono preamps.
2M Red delivers an open, dynamic sound with a slight touch of warmth.
2M Red Maintenance Set included the package:
1 x Stylus brush
1 x Screwdriver
2 x Screw M2,5 x 5
2 x Screw M2,5 x 7 

Replacement stylus unit: 2M Red (interchangeable with 2M Blue and 2M Silver)
Output voltage at 1000 Hz, 5cm/sec. - 5.5 mV
Channel balance at 1 kHz - 1.5 dB
Channel separation at 1 kHz - 22 dB
Channel separation at 15 kHz - 15 dB
Frequency response - 20-20.000 Hz + 3 / - 1 dB
Tracking ability at 315Hz at recommended tracking force - 70 µm
Compliance, dynamic, lateral - 20 µm/mN
Stylus type - Elliptical
Stylus tip radius - r/R 8/18 µm
Tracking force range - 1.6-2.0 g (16-20 mN)
Tracking force, recommended - 1.8 g (18 mN)
Tracking angle - 20°
Internal impedance, DC resistance - 1.3 kOhm
Internal inductance - 700 mH
Recommended load resistance - 47 kOhm
Recommended load capacitance - 150-300 pF
Cartridge colour, body/stylus - Black/Red
2M standard and 2M Verso cartridges weight - 7.2 g
Ships within 3 days