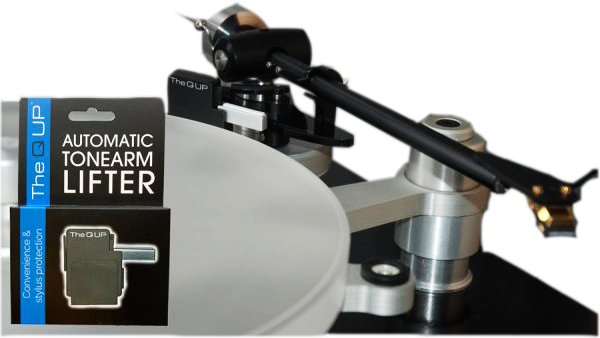 Automatic tonearm lifter
The Q Up
€ 49,90
The Q UP is a high precision device that safely lifts your tonearm at the end of the record. This will extend the life of your stylus significantly. The Q UP is designed to fit on most manual turntables and is easy to install. The Q UP can be configured for a variety of tonearm heights, thicknesses and shapes. This unique automatic tonearm lifter only interacts with the tonearm at the end of the record and does not adversely effect the tonal quality of your system in any way. Thanks to the Q UP, you don't need to worry about getting distracted or falling asleep while you play your records.
Important: The Q UP automatic tonearm lifter is only suitable for turntables with:
- at at leat 14cm between the plateau and the tonearm
- a tonearm that is e a pivot type and not linear tracking
- the minimum height between the base where you will set up The Q UP and the bottom of the tonearm when playing a record of 36mm if you are using the base unit OR 34mm if you are setting it up without the base unit
See pictures above for compatibility or check this link to make sure it will work for your turntable.
The Q UP is NOT compatible with DJ style turntables like the Technics 1200, Audio Technica and Stantons. There is no space between the platter and the tonearm to mount the lifter.
Comes
Ships within 3 days