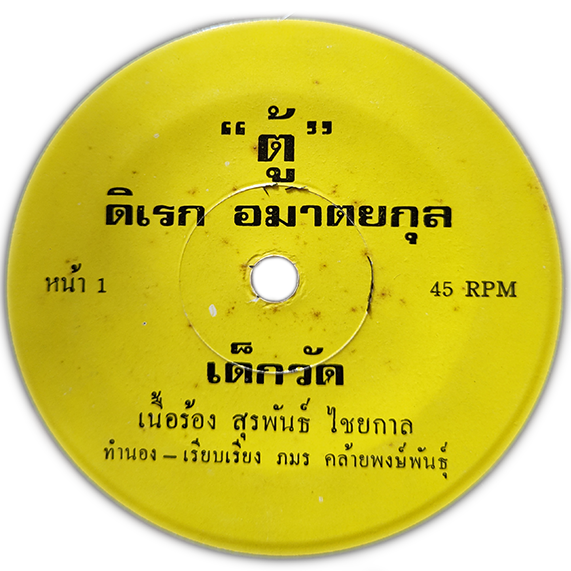 Dek Wat 7" - ด็กวัด
Direk Amatayakul - ดิเรก อมาตยกุล
€ 30,00

A real rare novelty here: early Thai rap & electro from the 80's in good condition on 45 rpm!
An interesting piece of history and solid fun dancefloor material at the same time.
Performed by Thai vocalist Direk Amatayakul, the A-side's lyrics were written by Suraphan Chaiyakan on an arrangement by Pamorn Klaipongphan. The track is called 'Dek Wat'.
The B-side's lyrics were written by Prasit Chamnanprai on the traditional Toey Khong folkmelody from Laos, arranged by Thepanom Suwanaboon. The B-side is called 'See Lor Lek'.
Direk Amatayakul, whose nickname is Tu, is a singer from Thailand. He gained fame during the years 1982 - 1985 and was a former lead singer of the President Band.
As a solo singer he has a distinctive style of dancing, along with his singing/rapping, which earned him the nickname 'Man Without Bones'.
Other well-known songs of him include 'Krabi Rai Tiem Than' (1981), 'Sao Bang Pho' (1982) and 'Ai Mien' from his solo album that was released in 1985.
Later in life Direk became an actor starring in many Thai movies.
This original Thai pressing on 45 RPM is in very good condition. Audio clips are from the actual copy for sale.

Condition: VG (vinyl) / Generic (Cover)
Ships within 1 day