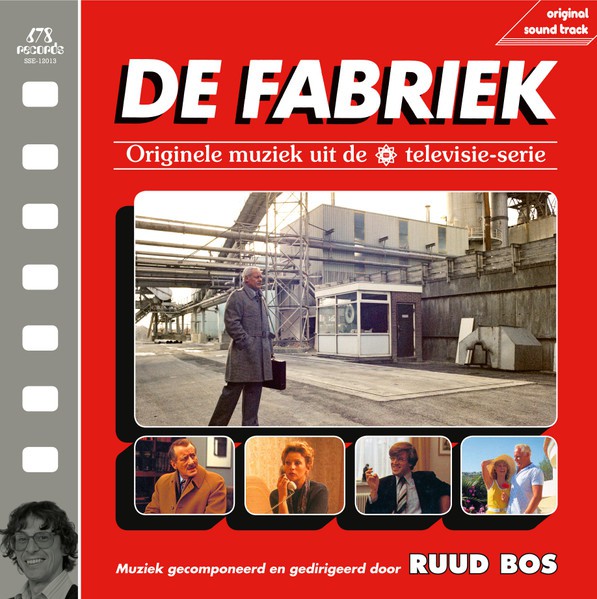 De Fabriek OST LP
Ruud Bos
€ 28,00
1.

Sugar – Opening Titles (Short Version)

30.

Sugar – Opening Titles (Long Version)

31.

New Energy (Mixing Demo)

33.

At Labour (Rhythm Mix)

35.

New Energy (Rhythm Mix)

37.

Sugar (Original Mono Leader Mix 1981)
First time vinyl pressing of the soundtrack of De Fabriek (English: The Factory), a tv show that ran from 1981 to 1982 in the Netherlands.
The music is composed by Ruud Bos, who has written a lot of music for Dutch media in the '70s and '80s. If you are Dutch and have memories from that period, you certainly remember De Fabeltjeskrant, Zeg Eens AAA and Bassie en Adriaan. Otherwise, you have probably been to the Dutch amusement park De Efteling, where you have heard music of the Vogel Rok, Via Volta and Fata Morgana attractions. The list of music he has written is both massive and impressive, making him one of the most prolific composers for Dutch media.
Apparently, the original tapes, recorded in 1981, have recently been found in Bos's archive and were digitized using modern techniques.
One of the strong points of this score is its main theme. It is introduced in the first track "Sugar – Opening Titles [Short Version]," getting you in the mood for the rest of the music. The theme is an amazing piece performed by an orchestra with the memorable melody played by the brass, supported by the drums and bass guitar to give the theme a poppy and jazzy vibe, which was very common in the '80s. "Sugar – Opening Titles [Long Version]" is, as the title suggests, a longer version of the opening titles, making for an even better listening experience.
In "Secret Affair" you hear a slow version, with the melody on the flute, while in "Come Home" the solo is performed on a guitar, supported by the strings. The melody is also performed by a guitar in "At Rest", together with a vibraphone, and transitions in a beautiful jazz piece afterwards. In "Casino" a whistler starts to perform the theme's melody, giving the music a more human touch, but in "Anxious" the theme is more disturbing as it is performed on the piano while the supporting notes are not being played exactly in tune.
There are many more superb tracks on the album: As a matter of fact, all of them are. There are some excellent jazz pieces, for example "At Labour" and "New Energy" with some brilliant improvisation solos. "Steadfast" and "Action" contain a march-like theme, which keeps repeating in your head.
Super limited vinyl edition of 200 handnumbered copies.
Includes booklet with interviews and background stories (in Dutch) and photo's.
Condition: Mint (Vinyl) / Mint (Cover)
Ships within 1 day